---
How I turned $500 and a moped into a full-service catering company
Pacific Business News
March 20, 2015 • By: Duane Shimogawa
Link To Article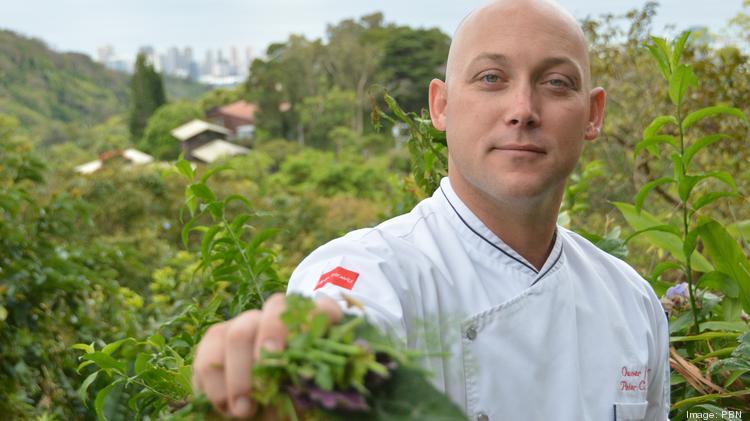 I got into this in Los Gatos, California as a dishwasher at 15 years of age. It's a great way to break into the industry. I worked my way up to cook, to host, to every sort of position at a restaurant before I graduated high school.
I went to the Culinary Institute of America in New York, and then went off to Germany, San Francisco and then Hawaii, where I have been for 12 years.
I came to Hawaii from Germany to work with Chef Alan Wong, and then I went to the Halekulani Hotel and worked at La Mer. Then I got into catering.
Simply put, I wanted to be with people, and wanted to be in all facets of the industry. At the time, I was 23 and I had $500 and a moped. I started moonlighting with guests who were coming into La Mer, doing dinners at their house, and it got kind of busy.
I would rent cars, go shopping, source foods, cook it, go to people's homes, clean and bounce. I got home at midnight and I did that for about a year and it took off and then I started to do full-service catering. I have been doing this for eight years, which is when I started Memoirs Hawaii. It all came back to wanting to be around the guests and seeing how the food worked.
We do nine people to 1,000 people. The profit margins fluctuate. We do weddings, corporate events, and fine dining to dignitaries, celebrities and locals at their homes.
With the celebrities, the concierges here will find a private chef, so agents will contact concierges. There was a time when I was doing all rappers — 10 pop artists in one year. A lot of them came about because a hip-hop kingpin was out here.
It's become a crowded market. About five years ago, there were about half as many caterers, and that little economic speed bump got a lot of restaurants concerned and I watched three chefs develop catering arms to their businesses.
It's good because catering companies weren't considered to perform for large functions long ago, but now we are playing into that picture because competition makes the industry better. Once that happens, you've got players in the market that are outperforming restaurants by leaps and bounds. We don't have the borders or restrictions restaurants do. We are specifically being trained for what's being asked of us for an event.
We have 45 people on staff. The best part about these guys is that they have jobs in other professions, so when they come to us, they're excited and motivated.
Our staff is our best asset. We find our people through word of mouth. On occasion, I put out an ad, especially for bigger events.
Our young professionals are between 25 and 35 years old. We also have seasoned hospitality people, maybe in their 40s, 50s or 60s. You need that balance of young and old.
The biggest challenge for our company and most companies our size is controlling the scaling process during growth.
Finding ourselves sharing market space with larger companies causes us to adapt and compete in new ways. Staying true to core values while providing value is a daily discussion in the office and the kitchen.
I started out in Kailua and now I am in Kakaako. I'll be 32 this year.
ur goal is to open a restaurant next year, but a restaurant is another equation that requires a lot of planning, a great team, and funding. I like Kakaako. It's a timing thing. I can't really be sure, but next year has been the goal since 2012. We're making the numbers, making it happen, so 2016 is our target.
You want catering to always be a branch of a restaurant. You can provide food to 500 people in one shot.
We have a little farm on the North Shore where we source local vegetables like herbs. Our fish is always local.
The necessary components happen at our kitchen in Kakaako. The final execution, finishing touches, we do at the site.
We saw a 250 percent revenue increase between 2012 and 2013, which was huge for us.
We look at 10 events a month being a healthy mark. It is seasonal; we've got the wedding industry, holiday parties — anywhere between 150 and 600-person range. Ten of those are awesome. That's busy.
As a small-business owner, you try to balance your life, but that's a constant effort. On my days off, I get to do something else for a few hours. I also like to work in my garden and I love to golf. I have an addiction to that. I also like to paddleboard.
I like to cook. Cooking is my thing. It's so relaxing. It's getting ingredients, opening a bottle of wine, and just go.
Back to top
---
Memoirs Hawaii owner/chef Peter Foster plans new restaurant in 2016
Pacific Business News
March 20, 2015 • By: Duane Shimogawa
Link To Article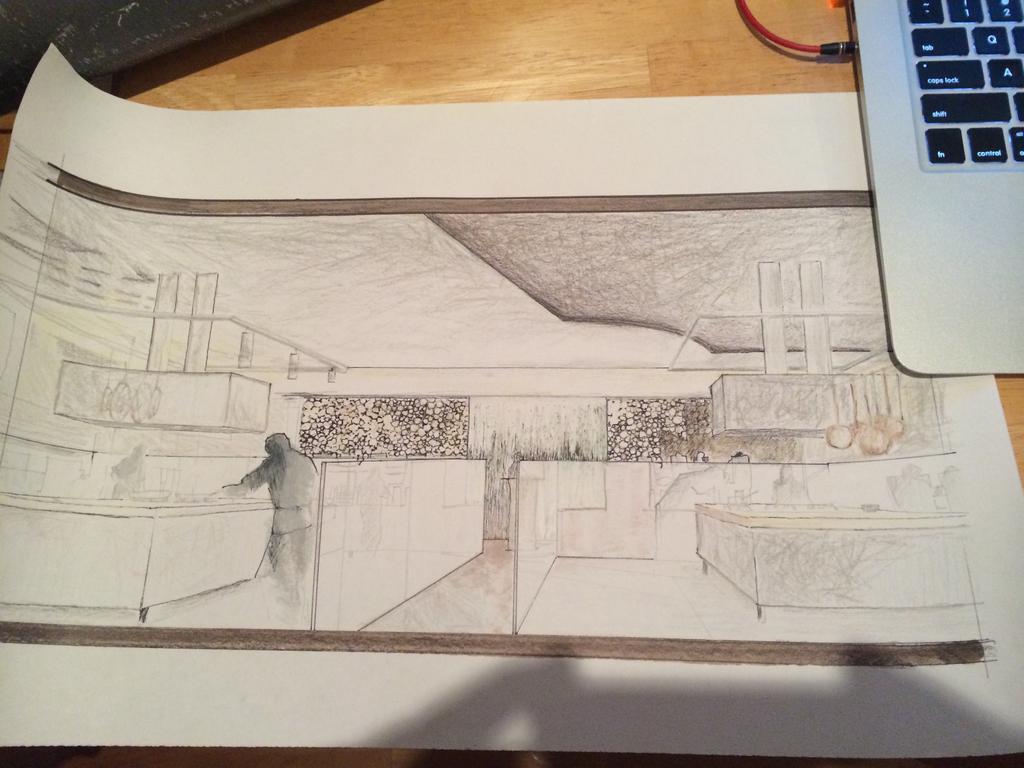 Hawaii chef Peter Foster, who has owned his Honolulu catering company, Memoirs Hawaii, for about eight years, plans to open a restaurant sometime next year, he recently told PBN.
The California native, who once worked under Hawaii chef Alan Wong and at Le Mer at the Halekulani, one of the state's most well-known high-end restaurants, said that catering will always part of any restaurant concept he decides to pursue.
"You can provide food to 500 people in one shot," he said. "But a restaurant is another equation that requires a lot of planning, a great team and funding."
Foster, who will turn 32 this year, likes what's happening in the growing Honolulu neighborhood of Kakaako, which is where his catering headquarters is located.
He noted that Kakaako is one of the areas where he is looking to open his new venture.
"It's a timing thing, [and] I can't really be sure, but next year has been the goal since 2012," Foster said. "We're making the numbers, making it happen, so 2016 is our target."
The Culinary Institute of America alumnus said Memoirs Hawaii continues to do well, seeing a 250 percent revenue increase between 2012 and 2013.
It does about 10 events a month, including weddings, corporate events, fine dining for dignitaries, celebrities and locals at their homes.
Read more about how Foster turned $500 and a moped into a full-service catering company in Friday's print edition of Pacific Business News.
Back to top
---
Hawaii Caterer Gains World Exposure
Local Catering Business Contracted for APEC Dinner Functions
November 11, 2011
The international attention Hawaii is getting with the Asia-Pacific Economic Cooperation summit creates a great opportunity for local businesses to showcase their products or services.
One local catering company, located at Aloha Tower Marketplace, is doing just that through food.
Hawaii's culinary industry is all about highlighting the freshest local ingredients. And to prepare gourmet meals with food from all over the islands for top dignitaries is a big deal for the industry.
"For the cooks, for the farmers, for the growers, it's huge. I mean, these guys have been working their whole lives, and to have their heart and soul being put on a platter for the world to literally taste and see is probably pretty rewarding," said Peter Foster, chef and owner of Memoirs.
Foster said he's humbled to have the opportunity to serve at least two private dinners for U.S. and foreign leaders in town for APEC.
His team has been preparing for this week over the past few months and will be serving up to 100 guests, somewhere between Waikiki and Kahala. Read more at kitv.com...
Local Businesses Showcase Their Products During APEC
Back to top
---
Kiss the Chef: Haute 5 Chef's Tables in Hawaii
For the ultimate chefs table experience, make your ocassion a private affair with haute local personal chef, Peter Foster. Memoirs Hawaii offers an unforgettable experience whether it be at a beachfront home, garden setting, chartered yacht, or commercial location. Chef Foster can work his magic anywhere you choose offering custom menu options to fulfill all of your culinary fantasies. Read more at Haute Living...
Back to top
---
Memoirs
Sample the services of private chef Peter Foster
December-January 2008 • By: Alice Keesing
Link To Article
It's still early at the Commercial Fishing Village at Pier 38, but Honolulu's top private chef Peter Foster is fueled up on caffeine and picking up his catch of the day at Fresh Island Fish. The top-quality onaga and hamachi are bound for a private dinner party at a swanky Black Point address that same night. It's the first stop in Foster's day, as he personally tracks down the freshest ingredients for the five-course meal. Next stop is Chinatown where he searches out rich yellow wonton and crisp, fragrant produce. Then it's on to his client's home where the 24-year-old preps the meal that will be served to six people in the ocean-front dining room, complete with wine pairings, waiter service and Bernardaud dinnerware.
Oh, the luxury. Since Foster became a private chef two years ago, Honolulu's upper crust has been soaking it up. His company, Memoirs, has served up exclusive memories for its clients on boats and beaches, remotes hillsides, lawns and lanais. His clients have flown him to Bangkok, New York and Colorado - just to cook for them. And he's already booked into next year's holiday season.
From washing dishes in California at the tender age of 15, his path took him through the Culinary Institute of America and on to top restaurants in Germany, New York and San Francisco. But it was those fish that lured Foster to Hawaii, where under the mentorship of local notables Alan Wong and George Mavrothalassitis, his classical training evolved to embrace the elegant simplicity of island-fresh ingredients.
"I don't like to overpower the flavor of the fish or the feeling of freshness," he says. "Just let the fish shine."
When creating new dishes, Foster finds his epiphanies while jumping off the rocks to go surfing, or sometimes while he's sitting in Honolulu's bottleneck traffic. He's built relationships with local suppliers and is constantly looking to expand his palette of ingredients.
"I'd like to bring the seasons to Hawaii," he says. "This holiday season I plan on spending a lot of money with Fed Ex, shipping out things that are seasonal on the Mainland that we can't get here like apples, mushrooms, squash, pumpkins - everything that reminds you of the fall season."
For Chef Foster, the job is all about the intimate connections that food can forge. He strives to keep his bookings smaller in size - too big and it gets too much like catering, he says with a grimace. His company is called Memoirs because he aims to create an occasion that writes itself on all of his clients' five senses.
"Your menu is like your memoir, it's the way the food tastes, your sight, the way you felt, the table conversation - I've seen good food turn people who probably hadn't spoken to each other for years into lovers again," he says, and starts laughing, "Then they kick me out of the house so fast."
Back to top
---
Watch Chef Peter: Fish Preparation and Cleaning
Peter Foster Memoirs: Fish preparation and cleaning from Timothy Lewis on Vimeo.
Back to top
---